10:09 PM - 2 Comments
By Bruce Kunz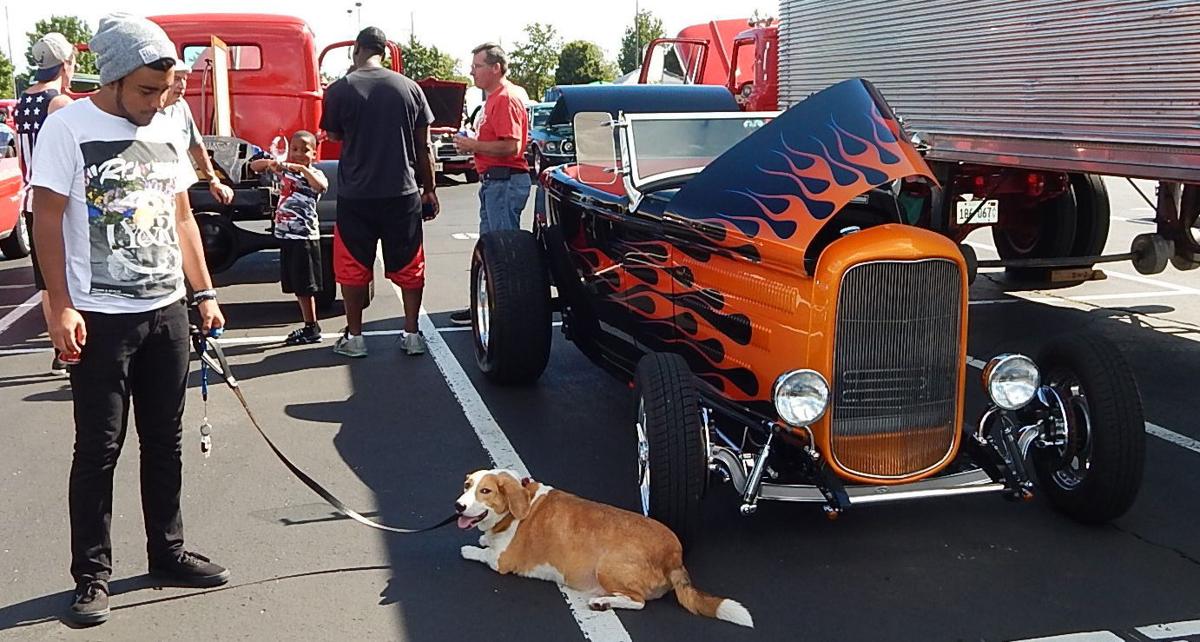 What is a "highboy"? Well, it can mean a number of things, including a tall piece of antique furniture dating back to the 17th century. But in the case of Roger Roney's customized roadster you see on this page, it is a type of hot rod in which the body sits atop the chassis, at stock height, as opposed to a "lowboy" whose body has been lowered or "channeled."
There were nearly 500 cars at the recent Edwardsville D.A.R.E. Car Show ... one of the must-attend events on our calendar every year. Of those 500 or so on hand, 6-year old Roy, our "bagle" (basset-beagle hybrid), TKCS-StL mascot and a veteran of 50-something car shows, picked this professionally-built, '32 Ford Roadster as his favorite for the day. And why not? This "kit car," with a body by Show Me Rod & Custom of Highlandville, Mo., has all the right stuff. With just 2,100 miles showing on the clock, it is basically all new from the ground up. The engine is a Chevy 350 crate motor bolted to a 700 R4 GM tranny. At the other end of the driveshaft is the venerable 9" Ford rear differential — a proven brute. All this stuffed under a tiny, lightweight body and well ... you don't want to mess with Roger if you happen across him at a red light in your neighborhood!
The appearance of this car is pleasingly simple. The interior and matching luggage compartment are lipstick red, done in rolled and pleated style. On the outside, a stunning black paint job is topped out with "hot licks" on the front clip by Mayhem Graphics in Oklahoma. The whole package rolls on Billet Specialty genuine knock-off, chrome wheels.
Roger picked up this little jewel from our good friend Scott Brandt — owner of MotoeXotica, a charter sponsor of my Take a Kid to a Car Show program here in the St. Louis area. Roger and his wife, Maggie, of Glen Carbon, are the second owners of this "new" car. The original owner had it for just a year. Apparently, it didn't take him long to figure out this car was not built for a man of generous proportions who evidently had to use a giant shoe horn to get himself in and out of this little rascal! (At least that's the story I was told)
Creature comforts are perhaps the only category in which this tricked-out weekend cruiser falls short. Roger says "this is a fair weather car, no top or side windows, so you don't take it out in the cold, rain or snow!" And what about the sound system? None. Who needs it when you have the sweetest music you'll ever hear, courtesy of a stainless steel exhaust system and muffler by Magnaflow!
Roger's roadster won third place in the fiberglass street rod category.
Bruce Kunz, a.k.a. "The FIN MAN," is a member of the Society of Automobile Historians. If you love old cars and care about kids, help by visiting
www.thefinman.com