7:49 PM - 0 Comments
A 750 brake horsepower, state-of-the-art speed machine that can hit well over 200mph versus eight humanoids made of nothing more advanced than skin, muscle and bone. Using a specially-altered scrum machine to achieve this first, the RB8 would push against Bath's first string pack, with battle set to commence in the grounds of Bath's beautiful Farleigh House training facility.
The brutal, visceral force of F1 power against manpower? The force of eight hundred horses against eight mere mortals? No contest, right? That was before we found out exactly which humans our double title-winning RB8 would be up against – Bath Rugby's mighty forwards in a scrum down at the Club's elite Farleigh House training ground. With 900kg of top-class rugby playing power to contend with we knew we'd need to enlist an expert in dropping the full force of the RB8 at the right moment, and who better to take the wheel than three-time grand prix winner Daniel Ricciardo.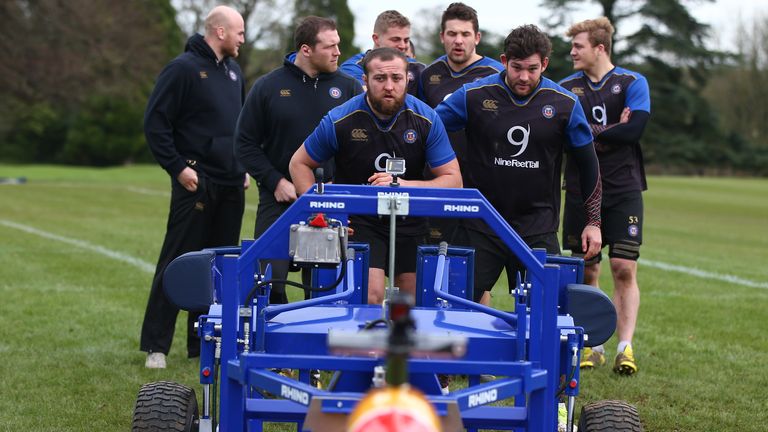 Even so, when we were greeted by a scrum featuring likes of Leroy Houston, Henry Thomas and David Denton heading towards them, we knew it would be a tight battle. Commenting on the contest, England international tighthead Henry Thomas said: "It's not every day you get to do something like that. We love testing ourselves on the biggest stage but not many players can say they've scrummed down against a Formula One car." Daniel Ricciardo added: "I was excited about the challenge as it's definitely something I've never experienced before! Seeing the rugby players take their positions behind the scrum machine right in front of me was somewhat…strange. But my competitiveness kicked in, the Honey Badger took over, and I was determined to beat them!"